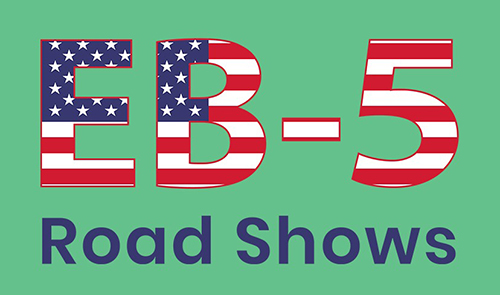 Explore Your Path to Permanent Residency in the USA with the EB-5 Road Shows
The USA Visa Window is hosting EB-5 Road Shows in multiple cities, providing information and assistance to those interested in the EB-5 Visa Program. Attendees can speak with experts and learn about the program's requirements, benefits, and application process, making it a great opportunity to network and get started on the path to permanent residency in the United States of America.
Green Card through Green Card Fund
We will serve Complimentary tea/ coffee , cookies, lunch during the seminar

We will show a Gujarati play " Pasha Patel Ne Visa Malya" with English subtitles

There will be live performance guiding how to give Visa interview
Dr Sudhir Shah, Advocate will be the speaker giving all information about EB-5 Program in Gujarati as well as in English.

Mr. Girish Patel will be the speaker giving all information about Green Card Fund and the project.
10 am to 11 am: Registration, Tea/Coffee, and slideshow on EB-5 Program, cartoons of EB-5 Program and Regional Center.

11 am to 1 pm: Seminar with speeches by Sangita Joshi, CEO of USA Visa Window, Mr. Jash Joshi, Marketing Executive, Dr. Sudhir Shah, Advocate, Ms. Preeti Gada, Advocate and USA Attorney on various topics related to EB-5 program.

1 pm to 2 pm: Lunch break with PowerPoint presentations on the Regional Center, its projects, and EB-5 program.

2 pm to 3 pm: Panel discussion with, Sangita Joshi, Jash Joshi, Preeti Gada, and Dr. Sudhir Shah, Advocate and the Regional Center's representatives, the American Attorney.

3 pm to 3.30 pm: Tea/coffee break.

3.30 pm to 5 pm: Drama "Pasha Patel ne Visa Malya" (in Gujarati with English subtitles). Simultaneously with the drama, there will be separate One-o-One meetings for a personal consultation with the American attorney, other representatives of the Regional Center, Sangita Joshi, and Dr. Sudhir Shah, Advocate.
Note:
Schedule for the Road Show in Anand is different, with the Road Show being held from 2 pm to 9 pm, and the schedule for the Road Shows in Surat, Ahmedabad, and Mehsana are the same in Mumbai. The organizers will distribute booklets and other materials in English and Gujarati containing information about the EB-5 program and the Regional Center. Interested individuals will have to fill up a Registration Form and await an invitation.